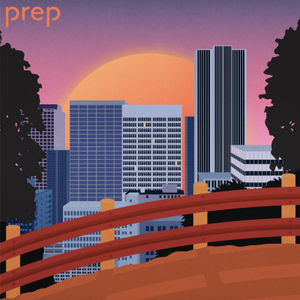 REVIEW: Prep "S/T"
Prep are a four piece indie-pop duo from the UK. According to allthingsloud.com, the band is comprised of a hip-hop producer, classical composer, a house DJ, and a songwriter" and the sound reflects just that. 
Their first full LP, long awaited, feels heavily City Pop influenced, combining elements of soft rock, R&B, and synth pop. With the huge interest in City Pop the last few years (see all of the myriad of Light In The Attic reissues in this genre including the Pacific Breeze series), Prep seems poised to have at least a very dedicated niche audience, if not breaking into a larger more mainstream demographic of listeners who wish that Harry Styles was more influenced by the 80's and synthesizers. Although, as I realized with January's Hybrid Record Club ROTM, not everyone has the fondness for 80's synthesizer sounds that I do. 
This full length offering from Prep comes in at a tight ten tracks, which is exactly the length it needs to be. It does not over stay it's welcome. Not every album or every band needs to be groundbreaking and innovative (I mean, we've got King Gizzard and the Lizard Wizard for that). Sometimes vibes are enough, which is exactly what you get from Prep. They're not reinventing the wheel, but they are giving you a vibe that you want if synth-pop is your thing. And from my albeit limited listening of this LP and limited knowledge of the band as a whole, it seems they are aware of this. Prep's debut LP is here to have fun and it doesn't seem to have any illusions of grandeur that several mainstream indie-pop/general pop artists or bands seem to have. 
The vinyl pressing itself is not much to write home about it. It's not an incredible half-speed master audiophile deluxe pressing, but it's certainly not a bad one either and for $21.99, that will do just fine. 
---