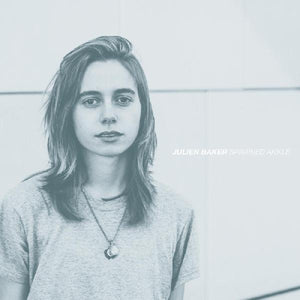 REVIEW: Julien Baker "Sprained Ankle" 5 Years Later
Julien Baker Sprained Ankle, 5 years and two albums later. 
Sprained Ankle isn't the kind of album that you forget. It stays with you, lingering long after you've taken the record off of your turntable. It's been over 5 years since Baker released Sprained Ankle on bandcamp, a home recording collection of songs that are predominantly just guitar and vocals. It's one of those albums that found its way into the world and was destined for greatness. If memory serves, Joey Cahill (owner and founder of 6131 Records) heard it and contacted Baker telling her to remove it from the internet because 6131 was going to sign her and release the album proper. Inevitably, the album was a huge success, garnering attention from outlets like NPR and taking Baker from college student to one of the premier names in the singer/songwriter genre. 
This album is as emo as it comes so it's no surprise that sad kids everyone immediately latched onto it. From my perspective, one of the most impressive things about Baker's songwriting on this album is how deeply rooted in her faith and crisis of faith her lyrics are, and how she finds a way to make those feelings universal. As someone with no faith whatsoever, her troubled relationship with religion and her creator as portrayed in these songs is in no way alienating. I feel everything she's saying to my core. The year this album came out, I was taking my band Crystal Lake TX out of the internet and into the real world, but I didn't have a band so I played everything solo, stripped down. The second I heard this record I knew this was the benchmark for the style of music I was actively playing at that time. I never achieved anything close to the honesty and vulnerability of Baker's songwriting, but at least I knew that people could connect to such minimalist compositions. 
5 years later, and with her third album just a few days away, this album still hits you right in the chest. The genius of it is in its minimalism. There's no frills, no glossy production techniques, just an artist speaking the god-honest truth of their experience and a sonic landscape brimming with the same earnestness and vulnerability. 
---