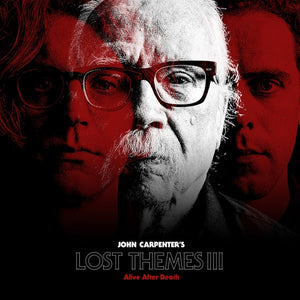 REVIEW: John Carpenter "Lost Themes III: Alive After Death"
John Carpenter Lost Themes III, Indie Exclusive transparent red colored vinyl.
John Carpenter and his Lost Themes band are back for another outing of all original music. If you're a fan of John Carpenter the director (which you should be what is wrong with you if you're not) then you are no doubt a fan of John Carpenter the composer. The two are inextricably bound to one another in my eyes. So much of his aesthetic as a filmmaker is tied up in mood and tone, both of which are heavily shaped by his synth heavy scores. Yes, the fact that Carpenter's scores are composed by him and predominantly synth oriented was something born out of necessity and budget restraints, but it has made him the icon that he is today.
The late 1990's left Carpenter disillusioned with the Hollywood machine and no longer interested in making films. This was devastating for fans not only because someone of his caliber always has the chance to make something incredibly, even in the wake of a string of duds, but because that iconic sound that Carpenter had created for himself would be lost as well.
In 2015 when Carpenter announced that he would be releasing new original music via Sacred Bones, the world rights itself; the planets aligned. Finally, even if he wouldn't be returning to the world of filmmaking, at least we would get the other half his creative brilliance, the sounds.
Lost Themes I and II are both fantastic records in my opinion, and Carpenter and the Lost Themes Band have gone back and rerecorded several of his iconic themes, ultimately resulting in an anthology release, aptly titled Anthology. So even if it's been almost 5 years since we got a Lost Themes record, there was definitely enough to hold us over. Oh, and did I forget to mention he returned to film composing for Halloween (2018)? That's my bad, that happened and it was wonderful.
Lost Themes III reassembles the band, consisting of Cody Carpenter, John Carpenter's son, and Daniel Davies, son of Dave Davies of the Kinks and Carpenter's god-son. Daniel Davies released an album in 2020 on his own which also excellent and worth a listen. The album is what we all expected: dark, heavy, broody, ominous synth-scapes. It's atmospheric and melodic the way we know Carpenter's film scores to be. What the Lost Themes Band has consistently added is a high level of production, and the consistent use of heavily distorted guitar leads that make the compositions sound that much bigger.
The release itself is great. The pressing, at least the particular copy I'm listening to currently, is quiet, dynamic, and overall just sounds great. The artwork is inline with other Lost Themes releases, featuring the classic Carpenter type-face, but this time featuring a more prominent, undistorted portrait shot of the artist. It includes a massive 26x32" poster and a printed inner-sleeve. To be honest, I can always live without a printer inner. I'm going to replace it anyway and unless it acts as an insert, it doesn't do much for me. This one just has more photography from the cover photoshoot undoubtedly and offers little in the way of credits or liner notes, and that's what I think has been missing from these releases. Carpenter really doesn't give us a ton in the way of credits and liner notes, opting to continue is mysteriousness by not divulging too much. I know in recent years he has said things that are controversial in the music production community, specifically dismissing the importance of analog-synths and favoring the convenience of using virtual instruments through logic for the convenience and wider array of sounds available. But if there is some hardware being used, I definitely want to know what it is. I also want to know who is playing what on each song! Alas, that information is not given to us and maybe it's for the best. People say "Don't ask questions you don't want to know the answers to" and I have to say, if the liner notes told us that there wasn't a single analog synthesizer used on this album, I would definitely be a little bit sad. Maybe ignorance truly is bliss.
Overall, this is a great record for fans wanting more of Carpenter's signature sound and the quality of the release itself is top tier as we've come to expect from Sacred Bones. Definitely a must own for die-hards, as well as those wanting to dip their toes in the world of synth heavy music.
---