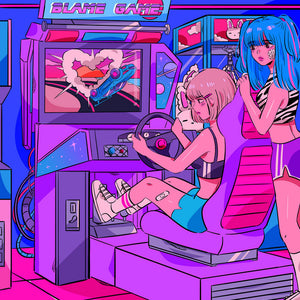 REVIEW: Beach Bunny "Blame Game" EP
Beach Bunny "Blame Game" (Hot Pink Colored Vinyl)
After putting out one of the best albums of 2020, Beach Bunny is back with a new 4-song EP to carry the momentum further. This release is presented on a 12" vinyl LP via Mom + Pop Records, pressed on hot pink colored vinyl and includes a sticker sheet. The artwork is top tier, done by Stephanie Priscilla. For such a short release, they really made sure to make the vinyl, the jacket, the artwork, and everything involved in the presentation worth the price ($17.99). 
The songs themselves are top tier bummer pop that we've come to expect from Beach Bunny. On this outing, Lili Trifilio is dealing with a lot of relationship dynamics, specifically dealing with harmful relationships and relationship dynamics, such as patriarchal norms and double standards that exist and are still perpetuated today. The subject matter of the songs are in stark contrast with the upbeat, mostly major key progressions in the music. Some of the topics dealt in this release are dark (I'm looking at you "Blame Game"). But they tackle serious issues and illustrate the hardships that women have been dealing with for decades. In the "Blame Game," the album closer, Trifilio delivers lines like: 
"Police officer asks, 'What she's wearin'?'" and the chorus
"Guess it's my fault my body's fun to stare at
Sorry my clothes can't keep your hands from grabbin'
Yeah, it's my problem, I'm askin' for it
Guess you're the victim and I'm the suspect
S-s-suspect"
Trilio's ability to deal with such heavy subject matter in the context of comfort pop sensibilities is what makes her ability to tackle these subjects to poignant and impactful. 
The only downfall of this release is some of the vocal performances. Trifilio sounds great throughout, but for some reason her voice lacks the bite that you could hear on Honeymoon. Overall, I think this release will continue to propel Beach Bunny to the pantheon of 21st Century Indie-Rock legends and even though it didn't hit quite as hard from a performance stand point as Honeymoon, it definitely makes you wish there was more than four songs. I even find myself running it back as soon as it's finished because I want more! I especially want more of the lyrical bite that are represented in these songs continues into their next full length. 
by: Carlos Cooper
---