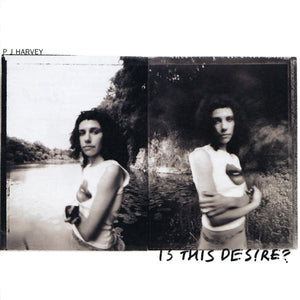 PJ Harvey "Is This Desire?" (2021 Reissue)
PJ Harvey Is This Desire? 2021 reissue. 
It's Thursday morning (almost noon really) and we just received our copies of the latest reissue from PJ Harvey: Is This Desire? So far, I've grabbed all of the PJ reissues that have come out in 2020; Dry, Rid Of Me, To Bring You My Love. At this rate there's no sense in stopping now, even if some of the later catalogue I'm less familiar with. On this particular Thursday, I've swapped out our usual in-store turntable, a Gemini PDT-6000 Direct Drive turntable outfitted with a Shure M44-7 running a JICO stylus, and am play testing a U-Turn Orbit Basic outfitted with an Ortofon 2M Red that was giving the previous owner some trouble. I've gotta say, I miss having my U-Turn here in the shop, especially since mine is currently running an Ortofon 2M Blue, a step up from the 2M Red.
So why go through all this trouble to describe the minutia of my turntable set-up? Because I'm 3/4 of the way through Is This Desire?, the 2021 reissue as mentioned in the title of this review, and it sounds absolutely outstanding. Polly Jean Harvey's vocals are coming through crystal clear, and the low end is so full and punchy. Again, the more recent her releases, the less familiar I am with Harvey's catalog, so I don't have a ton of experience listening to this particular album through my headphones, or car stereo, or any other audio configuration. Regardless, I am floored at how great this pressing sounds. 
This particular pressing follows suit with To Bring You My Love, with lacquer cutting done by Jason Mitchell. The first two reissues in Dry and Rid Of Me were each cut by different mastering engineers and, while those pressings sound good, something about these last two done by Mitchell feels so big, bold, and dynamic. 
I was over the moon when the first three album reissues were announced and I'm still thrilled that they're continuing through her entire discography. What were once records that in some cases cost several hundred dollars are now affordable reissues at $24.99. My only complaint is that there's no indie exclusive versions, which I obviously love as an indie record store owner. Not that Harvey has ever been one for frills or unnecessary embellishment, but c'mon, we all like a nice marble, swirl, or splatter colored vinyl record and if you don't, I just flat out don't believe you. 
If you haven't, you can order this LP under the "vinyl" tab on our website. If you haven't ever really listened to PJ Harvey and clicked on this to find out what she's about, go grab this record right now. You will not regret it. Check out the recently unearthed music video for the album's opening track below. 
---